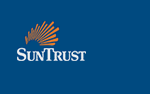 SunTrust Bank
Phone
:
1-800.SUNTRUST,877.752.2797,800.786.8787

Looking for a way to safely protect your money when business is unpredictable and the stock market is fickle? Check out SunTrust certificates of deposit. They're a great investment option because they're reliable and insured. CDs are great if you're shopping for an attractive rate and don't need immediate acc...

If you're looking for a safe place to build your savings, SunTrust Certificates of Deposit (CDs) are a great choice from a bank you can trust. Our CDs pay competitive guaranteed fixed interest rates with maturities ranging from 7 days to 10 years. You can open a CD with a minimum deposit of $2,000. The more you s...