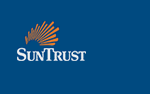 SunTrust Bank
Phone
:
1-800.SUNTRUST,877.752.2797,800.786.8787
Head Office
Headquarters
Atlanta, Georgia, U.S.
Description
SunTrust Banks
SunTrust Banks, Inc., is a leading financial service holding company in the U.S., with total assets of $175.3 billion.
SunTrust Bank, is the major subsidiary of SunTrust Banks, Inc., providing banking products and services in forms of credit, deposit, trust and investment services to a large bases of small business, retail and institutional clients. The company also has supplementing services in asset management, mortgage banking, capital market and securities brokerage. In the modern time, SunTrust also provides clients with a complete suite of automatic, digital banking channels such as online banking, customer services centers, and latest mobile devices.
SunTrust was founded in Atlanta, where the company operated in some of the most prosperous markets in the U.S. The company has currently owned approximately 1,500 branch offices and 2,200 ATMs.
History
Trust Company of Georgia, the predecessor of nowadays SunTrust Bank, was founded as the Commercial Travelers' Savings Bank in 1891. Later, it was transformed into a trust company and was renamed Trust Company of Georgia. The current SunTrust Banks, Inc., was a successful outcome of a merger of the Trust Company of Georgia and SunBanks, Inc., of Orlando, in 1985. The merged corporation was operated as Trust Company Bank in Georgia and Sun Bank in Florida until 1995, when all banks are restructured into one functioning unit, and assumed the SunTrust name.
From 1986, SunTrust started its progression through series of acquisitions. It purchased Third National Corporation of Nashville, though remaining the Third National name in the state until 1995. In 1998, SunTrust acquired Crestar Financial Corporation of Richmond, firstly charging into Maryland, Virginia, and the District of Columbia.
In 2001, SunTrust made the purchasing of the Robinson-Humphrey Company, LLC. creating SunTrust Robinson-Humphrey. In 2004, the company bought National Commerce Financial Corporation (NCF) based in Memphis at the price of $7 billion. The result of the acquisition was the presence of National Bank of Commerce in Tennessee, South Carolina, Arkansas, Mississippi, Georgia, Alabama, Virginia and West Virginia. It's SunTrust's maiden voyage to tread into North Carolina and West Virginia markets, and remarkably strengthened its standing in the other states.
Operation
Products
The bank's principle business lines include credit, deposit, trust and investment services. Within its various subsidiaries, the company is implementing diversity of products and services , including, asset management, mortgage banking, capital market services and securities brokerage.
Personal Banking
The features of the Personal Banking is to safeguard customers' banking accounts, investment and accumulated earnings. Some additional expedience such as Online Banking, Mobile Banking with automatic Bill Pay, make banking fun and convenient. Online banking provides 24/7 services regardless of time and space. Customers can transfer funds, check account balances, review and print history with tap of a finger. The Bill Pay service is also a newly added online function for automatic banking.
SunTrust Mobile Banking and Tablet Banking support the mobility of each of customer's move. The customers can check account balance and trace recent transactions, transfer funds between different accounts, pay a bill or deposit a check directly from mobile device or tablet, all with no fee.
SunTrust's ATM Banking supports unlimited accessing, free withdrawals with no operation charge, and deposits at more than 2,200 SunTrust ATMs. Majority of the ATM machines are featuring check and cash deposits.
SunTrust branch offices design and promote commercial counseling of customized service and insightful financial guidance for personal gain and business success. The operation is practiced at more than 1,500 branches domestically, with more than 150 branch offices in a setting of a retail store for extended convenience and prolonged service hours.
SunTrust Personal Banking supports Auto-Transfers, Alerts, Overdraft Services, Solid Theft ProtectionSM, Direct Deposit, among other functionalities. Free internal automatic transfers from SunTrust's checking account to Savings account can be setup to track the record of savings. Account Alerts are being added into Personal Banking services to keep customers secure and informed. Customers can choose the activities that will trigger alerts, and opt for the way of receiving them - email or text message. To protect the availability of funds when needed, customers can add one or both the Overdraft services to their checking, savings or money market accounts to ensure that they are always covered.
Overdraft Coverage is an option to authorize SunTrust to pay to daily debit card transactions and ATM, when the available balance in the account is over withdrawn. An overdraft fee will be incurred for each service transaction. Overdraft Protection will make a connection of SunTrust checking account to another internal bank credit card, deposit account, Overdraft AssuranceTM line of credit or line of credit to make sure that there is resource available for automatic transfer to cover an overdraft. It is an equivalent of an insurance plan against overdrafts.
SunTrust's identity-theft prevention service will equip customers with three levels of protection. The customers' identity is safeguarded through personal data protection solutions, credit management and comprehensive security tools.
Electronic deposit of paychecks, pension checks, Social Security benefits and other routine sources of income is supported by SunTrust Personal Banking Service to save time and proffer immediate access to customers income.
Pay Bills & Making Purchase
Just one password is required from SunTrust secure site. The SunTrust online service can assist the customers schedule payments, send the bill to anyone with a U.S. mailing address, and receive bills electronically with SunTrust eBills service.
SunTrust Debit Card is linked to SunTrust checking account for safe and easy payment. SunTrust Check Card, MasterCard® or Delta SkyMiles® Check Card are all functional with payment capabilities, and are associated with various airline service supplies rewarding frequent flyer miles for each purchases.
Business Banking
For the small- or medium-sized business, SunTrust business checking offers an array of service options for business checking needs. The solutions include low maintenance accounts, as well as premium accounts with more advanced features, such as account analysis. With a SunTrust business checking account, the following benefits are offered:
If the customer possesses a business checking account, he will receive a free SunTrust business check card or a Delta SkyMiles® Business Check Card with minimum annual fee.
SunTrust Online Cash Manager supports automatic managing of all the existing accounts and electronic bill payments; the customers can access multiple personal and business accounts under one registered profile; Online Cash Manager also supports checking of images and online statements, viewing updated transaction reports, making account transfers, downloading account transactions into customers' own accounting software, setting alerts and reminders, and Online Payroll. SunTrust continues to expand the complete range of benefits of business checking and FDIC deposit insurance coverage with maximum amount in business deposits.
Commercial Corporate and Institution
Wealth Management
SunTrust Private Wealth Management is a subsidiary company of SunTrust Banks, Inc., one of the largest and most prestigious financial holding companies in the U.S. The mission of the company is to provide effective management of both personal wealth and business needs. The wealth managers apply test approving principles and offers highly individualized financial solutions.
Wealth Managers function as a client advisor, a finance expert based in customers' local area, serving as a primary contact between the business and the bank. As a client of Wealth Managers, he will have the complete list of the specialists throughout SunTrust Private Wealth Management and the available expertise, products or services for achieving clients' unique objectives. With Wealth Management, clients will have access to abundant resources and robust capabilities from one of largest and most versatile banking institutions within the country.
Community Business
SunTrust is devoted to maintaining a constant local presence in the communities. The company's experts live and work in their own communities and frequently encounter their clients' needs and concerns face to face, day by day. As SunTrust customers, they will be considerately assigned with, and personally served by, a local advisor and supported by a team of specialists within the area of business.
Vision and Responsibility
SunTrust is committed to pave the path to Financial Well-Being for all its customers. It is the purpose of SunTrust as an organization, and is practiced by placing customers' needs and interests first. The company strives to understand the customers' individual circumstances, conceives and provides customized products and services that facilitate their unique borrowing, banking, and investing needs.
SunTrust can realize itself as not the biggest bank in the market, but it takes pride in the provision of resources, tools and options for customers for them to stay in control of their finances and of their future. Because of this unique, compassionate approach, the company has been recognized for its award-winning personal service and rewarded by the customers with their unshakeable loyalty.
Community Involvement
SunTrust recognizes that the quality of life and the economic vitality in the communities are the most essential factors to bolster and preserve financial well-being. Community involvement has constantly been a significant and fundamental principal at SunTrust. The company strives to support this principle through activities ranging from philanthropy, volunteerism, and resource contributions as outlined in the Community Reinvestment Act (CRA).
Through 2013 and 2014, community involvement has been kept as one of the many ways in which SunTrust embraces the company's value and guiding principle to foster a stronger community. Demonstrations of community involvement can be seen everywhere in SunTrust's daily business life:
Volunteerism: Teammate community volunteerism has amounted to over 220,000 hours. The company has focused its support in awareness of financial well-being and financial literacy. The activities include Operation Hope, Junior Achievement, United Way and Goodwill, InCharge Debt Solutions.
Philanthropy: In 2012, SunTrust, associated with SunTrust Foundation and SunTrust teammates donated above $19 million to non-profit organizations following footprint of company's long history charity activities. The SunTrust Foundation, SunTrust's initiative of philanthropic concern and the cornerstone of SunTrust's philanthropic efforts, offers loans and grants to charity organizations within company's business neighborhood.
Community Development: The company's commitment to the community improvement extends above the philanthropic efforts. In 2012, SunTrust supplied above $1.4 billion in loans and investments supporting economic development and job growth, affordable housing, revitalization and the stabilization of targeted areas, community services. The company also made $1.3 billion in loans as an investment to bolster small businesses, as well as $211 million in Small Business Administration (SBA) program loans to further the purpose.
The company endeavors to cultivate multigenerational relationships with the families in business. By doing so, the company has recognized valuable insight into estate issues and concerns that a typical, ordinary American family will come across. By building a personal relationship with the family and its members, the company will be able to address the family's current needs and foresee those of future generations. In additional to affordable housing plan, the company provided over $4 billion in housing loans for the families with low-and-moderate income.
Fair Lending
A commitment to fair lending is rooted at the center of the company's relationship to the people and communities it serves. That commitment is fully aware and executed by executive management team, Board of Directors, and all levels of SunTrust's knowledgeable and experienced staff.
Fair lending to SunTrust is not a law in its literary sense, the company deeply appreciates the spirit of such laws in its promise that each applicant of a loan or a mortgage at SunTrust will be fairly treated and equitably served. Here's how the company fulfills that promise:
Following fair lending rules.
In SunTrust, the company provides and extends all of its products and services to any qualified applicant regardless of sex, race, color, religion, national origin, marital status, age, disability, familial status, sexual orientation, veteran status, geographic location, gender identity within the exercise of consumer protection rights, lending practice or any basis prohibited by applicable law.
Code of Conduct
SunTrust's staffs are informed and trained to be aware of and conduct their responsibility to treat all customers fairly and consistently. The company has timely training arrangement for employees on fair housing and lending policy, fair lending laws, and a broad range of diversity issues and practices.
Stay vigilant.
To add more strength into training and execution, the company is also conducting ongoing monitoring, to follow up with customers satisfaction, to reassess lending policies, and to keep tabs on the marketing practices— all are done to be sure of the exceptional practicing above and beyond fair lending laws.