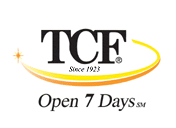 TCF Financial Corporation
Phone
:
(800) 823-2265, 1-800-343-6145,
Head Office
TCF Financial Corporation
200 Lake Street East
Wayzata, MN 55391-1693
612-661-6500
Description
TCF Financial Corporation, formerly Twin City Financial, has roots that can be traced to 1923. The current holding company structure was created in the mid-1980s to take advantage of easing regulations and allow expansion into non-bank services. In the 1990s, the company expanded banking into Michigan through the acquisitions of First Federal Savings Bank of Oakland County and Great Lakes National Bank. 1997 saw the acquisition of Winthrop Resources Corporation and 2004 saw the acquisition of VGM Leasing, Inc. Anti Durbin Amendment Action As reported in the Minneapolis Star Tribune, TCF Financial Corporation filed a lawsuit October 12, 2010 against Federal Reserve chairman Ben Bernanke and the Fed's board of governors. The lawsuit seeks a court order declaring the Durbin amendment to the current financial reform bill unconstitutional and seeks an injunction barring its enforcement. The Durbin amendment allows the Federal Reserve to limit interchange fees to the bank's cost of authorizing, clearing and settling debit card transactions. The amendment was instigated by retailers, and is supported by consumer groups. "Right now, consumers are footing the bill," said Doug Kantor of the Merchants Payments Coalition, a large group of retailers and retail trade associations. "To the extent that retailers pay less, consumers will pay less.