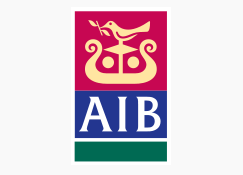 Allied Irish Banks
Phone
:
+353 (0) 1 6600311
Head Office
Headquarters Dublin, Ireland
AIB Group Headquarters
Bankcentre,
Ballsbridge,
Dublin 4, Ireland.
Description
Allied Irish Banks is usually referred to, both inside and outside the company, simply as AIB and often by its trade name of "Allied Irish Bank" (singular). In Northern Ireland, however, the bank trades as First Trust Bank, while in Great Britain, it is called "Allied Irish Bank (GB)"—the only part of the operation where the full name, in the singular, is still in day-to-day use. Initially, the bank operated under the names of its former constituent companies, alongside a new AIB logo, a circle divided in three with an "A" at the centre. From 1970, these were replaced by "Allied Irish Banks". In 1990, AIB introduced a new logo (prompted, it was said in some quarters, by the remarkable similarity between its previous logo and that of Mercedes-Benz.) Since then, the bank has preferred to be referred to as "AIB", though "Allied Irish Banks plc" remains its legal name. The bank is often referred to colloquially as "AIB Bank", an example of a redundant acronym. This is due to the name "AIB Bank" being adopted for the Republic of Ireland branch banking business at the time of the 1990 rebrand (with the word "Bank" being printed in the green stripe in the logo). This version of the logo is no longer used in print advertising but can still be seen on the façades of most AIB branches in the Republic. The 'Trustee Savings Banks' similarly rebranded to "TSB Bank" in 1993.