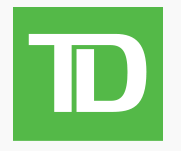 Toronto-Dominion Bank
Phone
:
888-751-9000, 866-235-1248
Head Office
Headquarters Toronto, Ontario, Canada
Category
Financial services
Description
The origins of the Toronto-Dominion Bank lie in the efforts of a group of businessmen in the Province of Canada West (as Ontario was formerly called between 1840 and 1867), involved in the buying, milling and marketing of grain. They were determined to create a financial institution to meet their specific needs in banking, insurance and commodities exchange. The first petition to the legislature of the province of Canada, in 1854, for the incorporation of the Millers, Merchants and Farmers Bank of Canada West, was rejected. However, on March 18, 1855, their application for a charter for the Bank of Toronto, with an authorized capital of £500,000, was granted. In July 1856, the Bank of Toronto opened its offices at 78 Church Street, Toronto, with a staff of three and immediately began development of a provincial network of branches. In 1860, it opened its first branch outside of Ontario, in Montreal. The Bank of Toronto established itself as an efficient, profitable, but essentially conservative bank through the 19th century. It maintained a very high reserve against its capital and enjoyed the highest share price of any bank in Canada. Growth was very slow and deliberate with a few new branches opened in emerging regional centres. Core customers remained farmers, merchants, and processors of farm products (millers, brewers, distillers). In 1871, the Bank of Toronto was joined on the Ontario scene by the Dominion Bank, launched by entrepreneurs and professionals under the leadership of James Austin. They were dedicated to creating a new institution "conducive to the general prosperity of that section of the country." Like the Bank of Toronto, the Dominion Bank was a cautious institution, "selecting its customers carefully, serving them well, and duly prospering with them" (in the words of the official history). It too created a network of branches, and in 1872 became the first Canadian bank to have two branches in one city – Toronto. With the maturing of the Canadian economy and the opening of northern Ontario and the West in 1880s and 1890s, the banks became more aggressive in loans to resource industries, utilities, and manufacturing. In 1897, the Dominion Bank opened its first western branch in Winnipeg and two years later the Bank of Toronto opened a branch in the British Columbia mining town of Rossland. In the first decade of the twentieth century, the banks rapidly expanded their branch networks in central Canada and across the west. To mark their rise as significant national institutions, the Dominion Bank moved into a large new head office building at the corner of King and Yonge Streets in Toronto in 1879 and the Toronto Bank followed with another landmark head office at King and Bay Street in 1913.
Established
Toronto, Ontario, 1955 Bank of Toronto, 1855 Dominion Bank, 1869