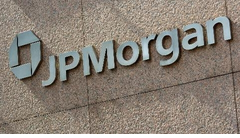 JPMorgan Chase & Co.
Phone
:
1-212-270-0589, 1-212-270-6000
Email
:
millie.l.yamaki@jpmchase.com, myeisha.gamino@jpmchase.com
Head Office
270 Park Avenue, Manhattan,
New York City, New York, U.S.
Description
JP Morgan Chase
JP Morgan Chase & Co. is a multinational banking and financial services holding company. It is the largest bank in the United States by the total assets of US$2.415 trillion. The company was founded in 2000, when Chase Manhattan Corporation merged with J.P. Morgan & Co.
The J.P. Morgan brand, widely known as Morgan, is used by J.P. Morgan Asset Management, the investment banking, private wealth management, private banking, and treasury & securities services divisions. Fiduciary sector within private wealth management and private banking is supported by JPMorgan Chase Bank, N.A.—the actual trustee. The Chase is usually the brand used for credit card services in north America, commercial banking and the bank's retail banking activities in the U.S.. The J.P. Morgan brand is mostly used in Investment Banking. The corporate is headquartered in Manhattan, New York City, New York, U.S.; and the retail and commercial bank deploys its headquarter in Chicago, Illinois, U.S.
History
JPMorgan Chase, with its current organization, is the outcome of the combination of several large U.S. banking companies since 1996, majorly including Chase Manhattan Bank, J.P. Morgan & Co., etc. Its predecessors include prime banking firms among which are Chemical Bank, First Chicago Bank, Manufacturers Hanover, Providian Financial, Texas Commerce Bank, National Bank of Detroit and Great Western Bank.
The New York Chemical Manufacturing Company, the founding corporate of JP Morgan Chase, was established in 1823, it was a maker of various chemical products. In 1824, the company made amendments into its charter to start involving banking businesses and created the Chemical Bank of New York, the predecessor of later JP Morgan Chase. After 1851, the banking route of the bank was deviated from its parent who was doing chemical manufacturing, and grew organically into more of the financial activities. Through a successive series of mergers, in the 1980s and early 1990s, Chemical Bank of New York was recognized as one of the leaders in the financing of buyout transactions. By the late 1980s, Chemical had developed solid and sound in its financing buyout transactions, built a financial advisory businesses, and syndicated leveraged finance sector. By that time, Chemical Bank of New York made it fame for being the most influential bank in the United States in terms of both assets and deposit market share.
In 1996, Chemical Bank made its monumental move by acquiring Chase Manhattan. Although Chemical was nominally the buyer, it still kept the well-known Chase name for a better economic concern. To this day, JPMorgan Chase still archives Chemical's pre-1996 stock price history, and retains Chemical's former headquarters at 270 Park Avenue.
Chase Manhattan Bank
The Chase Manhattan Bank was founded in 1955, when the Bank of the Manhattan Company purchased Chase National Bank, the company's most ancient predecessor institution.
During the 1970s and 1980s, Chase Manhattan performed as one of the largest and most prestigious banking entity, with its services and products leading the industry trend in treasury and securities services, syndicated lending, mortgages, credit cards and retail financial services. Attacked by the real estate debacle in the early 1990s, it was purchased by Chemical Bank in 1996. Before the merger with J.P. Morgan & Co., the newly founded Chase expanded the asset management and investment groups through more of the acquisitions.
JP Morgan & Company's line of development traced back to its partnership with Drexel, Morgan & Co., which in 1895 acquired its new name, J.P. Morgan & Co. As the most influential financial institution of its era, J.P. Morgan & Co. invested in the formation of several heavy industry companies in the U.S., such as the New York, New Haven and Hartford Railroad, United States Steel Corporation, and became the world's first billion dollar corporation.
Structure
JPMorgan Chase & Co. has five banking subsidiaries in the U.S.: JPMorgan Chase Bank, National Association; Custodial Trust Company; Chase Bank USA, National Association; J.P. Morgan Bank and Trust Company, National Association and JPMorgan Chase Bank, Dearborn.
JPMorgan Chase's activities are planned and organized into five business sectors: card services and consumer lending, corporate & investment bank, personal and business banking, commercial banking; asset management, home lending, corporate; including private equity and treasury and corporate functions. The investment banking division at J.P. Morgan is organized into teams: M&A, industry, and capital markets. Teams engaging in the industry business include healthcare, consumer and retail, natural resources, diversified industries and transportation, financial institutions, real estate and technology, metals and mining, media and telecommunications.
Operation
JPMorgan Chase & Co. is serving its customers and corporation business clients under its Chase and J.P. Morgan brands collaboratively. The Chase brand is mainly for promoting credit card services in the United States and Canada, commercial banking and retail banking activities in the United States.
Chase's Credit Card provision features its diversity and its association with various service companies, such as gas industry, airline companies and chain of hotels, etc. The Credit Card online service provides function of 'Compare' that customers can choose the cards that interest them, click and compare properties from variety of categories, eg. Card Type, Introductory Promotional Offer, APR on Purchases and Balance Transfers, Annual Fee, Bonus, Rewards Details, and Cash Back rewards.
With Chase and J.P.Morgan brands combined, JP Morgan Chase provides comprehensive range of corporate and commercial banking service.
Chase Commercial Banking
Chase Commercial Bank has now built more than 24,000 client basis domestically, including municipalities, corporations, non-profit organizations and financial institutions, generating annual revenue roughly ranging from $20 million to $2 billion. Chase has also partnered with approximately 35,000 real estate owners/investors. The clients are benefited from around 5,000 Chase Commercial Banking experts who deliver comprehensive financial business knowledge, local expertise and their devotion.
J.P.Morgan Commercial Banking
J.P.Morgan is working closely with all its customers for better understanding for their unique financial needs and challenges, and the purpose is to customize financial solutions to help the customers achieve their business goals. With J.P. Morgan you will have access to: maturely developed network of experienced bankers deployed in communities locally and internationally; dedicated Client Service employees whose goal is parallel to all the customers', that is superior client satisfaction; Industry experts, backed with award-winning research team and availability of world-class global resources; asset management and investment banking solutions provided through the colleagues across the firm.
Credit and Financing, can be customized into a simple line of credit to manage daily operations or a more sophisticated financing product package to help bolster long-term growth, J.P. Morgan expertise thus has the last say..
Treasury Management
J.P. Morgan offers Treasury Management solution and products, delivering liquidity, cash management, commercial card and trade capabilities that cater for the working capital management and working efficiency challenges treasury experts face today. The products and solutions are designed to make business as easy as possible for clients by applying automated documentation, online service tools, fast-track implementations, and more efforts are invested to promote the global operating model that distinguishes the superiority of the product.
International Banking
J.P. Morgan supports commercial clients in the U.S. market with global banking professionals who are proficient in various financing options, such as term lending, cash flow funding, acquisition financing and complex syndicated structural organization. Combined with additional financial solutions, such as international treasury, J.P. Morgan's global banking capacity can facilitate customers from everywhere for worldwide financial challenges and diversity of need.
Liquidity and Investments
In today's market, J.P. Morgan's Liquidity and Investment business service will help the financial managers and treasurers be more masterful in in handling cash in increasingly complicated portfolios. Through working with J.P. Morgan commercial banker, the management can have the access to the resources and expertise at hand that will help them conceive integrated investment and liquidity solutions, allowing for the most advantage and interests from cash portfolio.
JP Morgan's Investment Banking
J.P. Morgan, as a leading international investment bank, serves approximately 20,000 clients worldwide, including healthcare organizations, governments, states, corporations, municipalities, banks, investors, and education institutions.. The clients coverage spreads in more than 100 countries. J.P. Morgan provides strategic advice, a complete range of financial services, such as raising capital, risk management, money lending, and liquidity extension. With quality and devotion, the company still holds global leadership positions in all of the major business lines.
Business Principles
Across the business, J.P. Morgan strives to help clients succeed, maintaining well-functioning and orderly financial markets and uplifting global economic growth. One of the most essential functions of the company is to build and enlarge credit to companies for their growth.
Aspire to be the best
To achieve these results, J.P. Morgan provides all the customers with a comprehensive and class-quality package of products and services with benefits and efficiency both vouchsafed. The ambition for the best demonstrates the company's ability to grow both organically, with the launching of new products, market-share gains, and dimensionally, by acquisition. Furthermore, the company's footprint of development has proved that the whole is greater than the sum of the parts. Each business unit accommodates and complements the others, supplying substantial competitive advantages such as distribution channels, with which treasury and securities services are tailored for wholesale clients, and credit cards and mortgages designed for retail customers, and great international brand names.
J.P. Morgan has promised to act in the customer's best interest, not once in a while, but consistently. This means outstanding quality of products, services and being helpful, courteous and keen and efficient to follow up. The whole team needs to be acutely aware of the competitive landscape and spontaneous to act. The field, where the employees are the closest associates to the customer, should improve and refine this process, and make ample resources available, and authority ready, to be the best one to serve customers -- the strength resides in the field. The company aspires to exceed customers' greatest expectations and consistently make it easier and more willing for them to do business with it. It's not an idea of spending hundreds of millions of dollars on failed initiatives. It does mean, however, that some calculated risks will be taken, with the precaution for the failure. For this end, it requires the building of forward-looking ideas into every decision, every analysis and every new product package.
Execute superbly
Financial discipline – including solid accounting standards, transparent public relation and robust management information systems – leads to class-quality earnings that are recurring and foreseeable in nature; produces high returns on capital; gains good margins; and generates reasonable and controllable risk related to the capital deployed.
Financial discipline must be parallel with a superior – far beyond average – risk management. It's the company's strategy to properly manage risk, so as to gain a good return through iterative financial business cycle, not just during the good times.
Relentless efforts have been given on integrating and advancing technology, and on aggressively consolidating, and standardizing our operations, all of which help to facilitate decision-making and establish proper authority to the field. The belief that technology and efficient operations will be critical in the financial services business is profoundly rooted in very breath of business operation, and is embraced and integrated into every detail of corporate activity.
Good internal governance is essential to effective management. It penetrates and ties all the businesses worldwide with a set of commonly and unanimously acknowledged rules, oversight activities and expectations. These help safeguard J.P. Morgan's reputation, which it believes is one of its most important assets, and align the company's performance with the best interests of the shareholders.
Build a great and winning culture
In business, as in every other circumstance, ethics is not an accidental topic. It has to be cultivated and affirmed throughout the whole life cycle of business operation of an organization. Maintaining the highest threshold of integrity asks for honesty and conscience for serving our customers, fellow employees, shareholders and all the other partners.
Great managers from J.P. Morgan are driven by and for superb performance. They build and consolidate teamwork within and across business lines, act quickly on debatable issues, tenaciously strive to improve performance, demonstrate a passion to win with and evolve with their people.
The company endeavors to build a culture based on knowledge, truth, a passion to win, constructive debate, and the courage to admit and correct mistakes. All the members are learning to be brutally honest with themselves. Their responsibility is to create a company that encourages and protects this kind of constructive ethical and cultural exchange. Then, with the courage and fortitude to take action and do the right thing, however difficult, leadership is a privilege and an honor to assume, and carries the responsibility to be a role model in the business arena.
A successful company, as J.P. Morgan strives to be, provides people with competitive edge for benefits, the opportunity for better earning as the company grows and a rewarding career path. A properly designed and implemented incentive plans are solidifying the delicate balance between individual and corporative accountability.